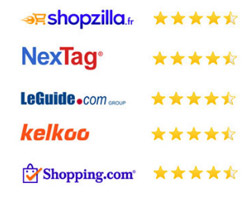 Uitstekende service
We vinden het belangrijk dat je in alle tevredenheid online kan winkelen. Geniet van de vertrouwde en veilige omgeving van SPARTOO.NL
Beveiligde diensten
Spartoo weet dat veiligheid belangrijk is als het gaat om off en online aankopen. We bieden een beveiligde betaling aan en zorgen voor een versleuteling van al je persoonlijke gegevens. Vervolgens kun je je pakket van deur tot deur online volgen zodat je altijd op de hoogte bent van de status van je bestelling. Je pakket wordt met zorg vervoerd door een van onze professionele partners (o.a. PostNL & UPS) Toch nog vragen of een probleem? Neem contact op met onze Nederlandse Klantenservice medewerkers, per telefoon, mail of misschien staat het antwoord wel in FAQ.
Gratis levering en gratis retour of ruilen
Producten van Spartoo worden altijd gratis bezorgd op afhaalpunten (aan huis vanaf €59,99). Verkeerde maat? Verkeerde kleur? Wat de reden ook is, je kunt je bestelling gratis terug sturen voor een terugbetaling of omruilen binnen 30 dagen na ontvangst. Op SPARTOO.NL print je gemakkelijk een adres label met een vooraf betaalde barcode. Hiermee kan je bij elk postkantoor je pakket afleveren en natuurlijk informeren wij je als we het pakket ontvangen hebben.
Een uitgebreid aanbod
Op SPARTOO.NL vind je niet alleen schoenen voor dames, heren en kinderen maar ook kleding en tassen kun je bij ons bestellen. We hebben een aanbod van meer dan 1700 topmerken en 50 000 unieke modellen. Niet alleen wij worden vrolijk van nieuwe Converse, Kickers, Doc Martens, Pataugas, en een paar sneakers van Nike maar ook menig schoenenliefhebber kan dit zeker waarderen. Vanzelfsprekend hebben we niet alleen populaire merken voor volwassenen zoals David Jones, Shabbies, Desigual, Paquetage en La Bagagerie, maar denken we aan het hele gezin. Voor de allerkleinste vind je onder andere Hello Kitty, Crocs en Birkenstock zodat ook zij stylish voor de dag kunnen komen. De nieuwste collectie van de bekendste merken, speciaal voor jou samengesteld binnen een webwinkel SPARTOO.NL.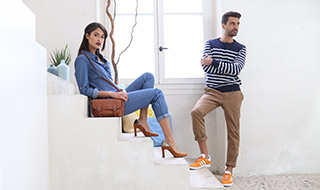 « Meer dan 800 merken en 50000 modellen. Gratis levering en retourzending, beveiligde betaling...»
Vind wat je zoekt
Vind snel het model dat je zoekt
Zoek met trefwoorden (kleur, maat, prijs, etc.) of maak gebruik van onze filters om snel te vinden waar je naar op zoek bent.
Resultaten per merk
Ontdek de merken die bij jou passen. Selecteer je favoriete merk: ontdek de populairste modellen van dit moment en geniet van een volledig overzicht aan schoenen, kleding en tassen.
De top 5
Wat is populair op dit moment? Ontdek de top 5 best verkochte producten op SPARTOO.NL van jou favoriete merk of stijl.
Bewaar je gegevens voor een volgend bezoek
Je hebt een artikel gevonden dat je wil hebben, maar je wil nog even wachten met bestellen? Geen probleem! Sla het op in je verlanglijstje en zolang het op voorraad is, blijft het daar op je wachten. Stond er nog iets in je winkelwagen van een vorig bezoek? Ook dat artikel vind je in je verlanglijstje terug.
Verbinding
Log in op je account en vind je gegevens terug: van het afleveradres tot de status van je lopende bestellingen, van je favorieten artikelen tot je cadeaubonnen, alles staat op jouw klantaccount geregistreerd en is gemakkelijk toegankelijk en aan te passen.
Wishlist
Heb je een super leuk shirt, paar schoenen of tas gezien op Spartoo.nl? Wil je een verlanglijstje bijhouden voor Sinterklaas of je verjaardag? Of een wishlist creëren in de sale periode? Sla al je favoriete artikelen op door ze toe te voegen aan de rubriek "Mijn verlanglijstje". Heel gemakkelijk!
Je winkelmand
Wanneer je zeker bent van je stuk, kan je de artikelen uit "Mijn verlanglijstje" naar je winkelmandje doorklikken. Je kan een een of meerdere artikelen selecteren of je gehele wishlist aan je winkelmand toevoegen.
Mobiel shoppen: liever bestellen via je tablet of smartphone? Dat kan!
Spartoo.nl is beschikbaar op al je mobiele apparaten. Blader door onze online catalogus, kies je favoriete artikelen en bestel. Waar je ook bent, op elk moment van de dag!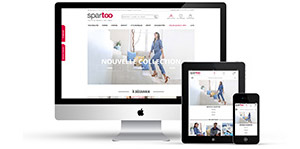 Mobiele website
Raadpleeg ons aanbod door slimme filters te gebruiken, plaats je bestelling(en) en volg ze in je klantaccount.
Onze mobiele applicaties
Download de Spartoo.nl applicatie, beschikbaar op de Google Play Store en op de Apple app Store, en klik door naar onze site. Heb je een leuk paar schoenen gezien? Scan dan de barcode op de schoendoos en kom automatisch te weten of dit model beschikbaar is op onze site (deze functie is enkel beschikbaar voor iPhone).